Digital Transformation of the Supply Chain: a new source of value creation for brands
Supply chain management is traditionally about delivering the right quality at the lowest cost, with the agreed service level. This still holds true, but digital transformation allows brands to reach beyond operational efficiency, to create new value
Digital Products, IoT, and Augmented Products

Digital Transformation of the supply chain allows the collection of rich data – strategic data – from a variety of sources. By attributing this data to a single product or item through serialization, we create a comprehensive digital picture of that particular product, which we call a "Digital Product" – individual and unique in its own right.
Because this Product is individualized, its identity can be leveraged as a means of communication. The Product serves as a vehicle to directly interact in a personalized way with different stakeholders of the supply chain from manufacturer, distributors, and retailers to end consumers – and to establish and build trust.
For example, a customer can be empowered by scanning a single luxury item, to learn the "history" of the specific item (e.g., where it was produced, who assembled it, who controlled its quality, to whom it was sold, etc.).
For FMCG goods, the Consumer could discover the products origin, where and in which conditions it was produced (e.g. to reveal ethical production). 
For the pharmaceutical industry, one could improve treatment adherence to specific drugs (for chronic illness), by making sure patients are following their prescription.
How can we enable such "Digital Products"?
A Digital Product architecture establishes the foundation for value creation in the supply chain.


What Technology is needed to create a Digital product?
Several building blocks for Data Capture must be implemented by the Brand Owner. First, an individual tag has to be applied on every product during its manufacturing process, to make it unique (serialization). Then, each product item has to be aggregated to its higher level of packaging, to ease interactions along the supply chain.
Finally, all product data (i.e. location, status, volumes, purchaser, seller, etc.) have to be collected along its journey to the Customer, either manually through item scanning, or automatically leveraging new technologies offered by the Internet of Things (IoT), RFID, and smart sensors technologies.
These data are then stored in a central repository to allow for Data Analysis and for their functional usage. If multiple independent stakeholders are involved along the supply chain, then blockchain technology can be deployed to ensure data integrity and correct Data Storage and Data Integrity and thus create the proper level of trust between them, without the need for a trusted Third party.
Behind every connected Product, there is a Consumer
Until recently, this digital transformation and the collected data were used principally to drive supply chain efficiency as well as to ensure supply chain integrity and security. However, it is now possible to create a much stronger value proposition, bringing value directly to Brand Owners and Consumers, and thus increase sales and business value. Indeed, on top of the usual operational data, strategic marketing data about the Product and its interaction with the Customer can be collected along the Supply Chain, such as its origin, its ingredients, where and how it was produced and distributed, what product is being sold, by whom, in what store, at what time and to which unique Client, etc.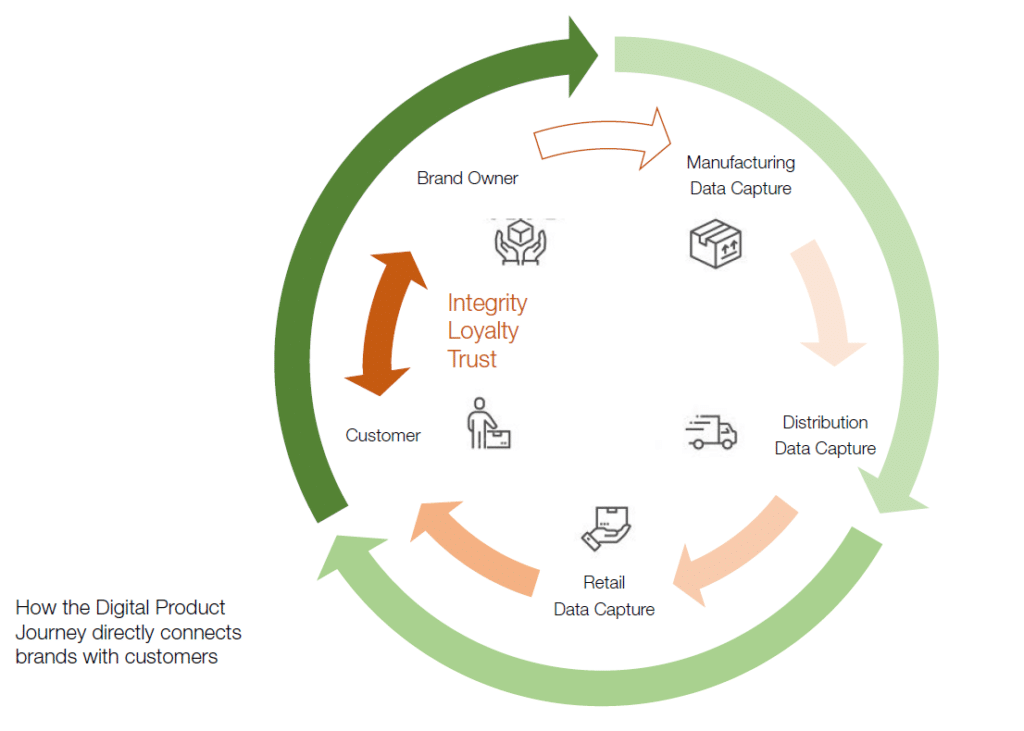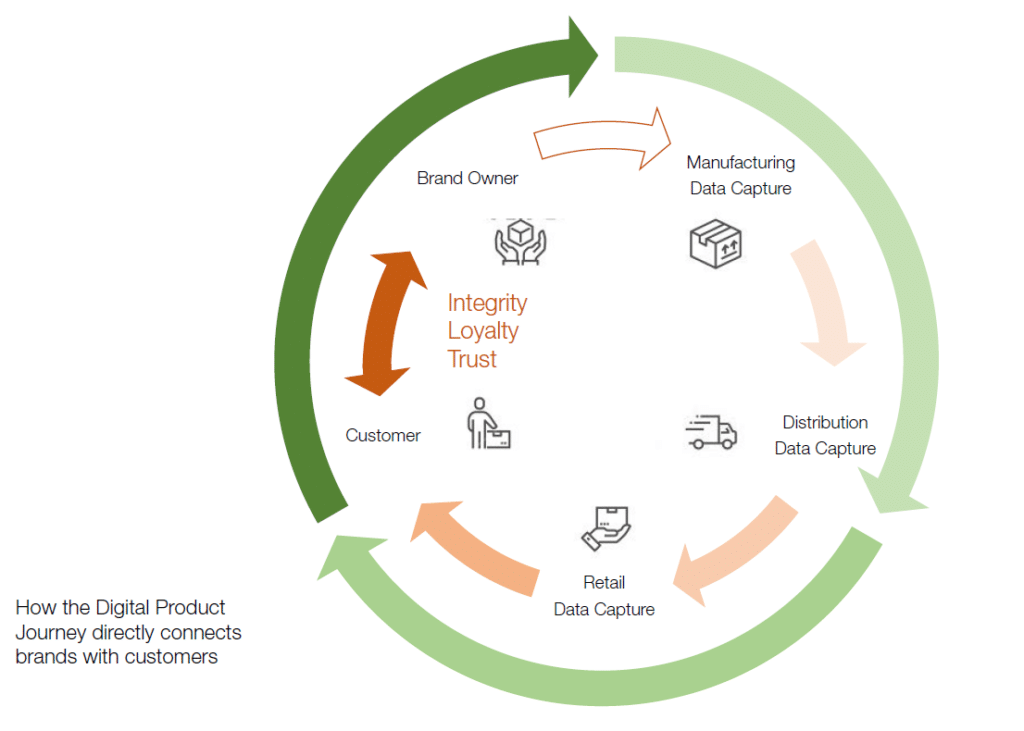 Today the majority of B2B companies and Brand Owners are seeking to better connect with their customers and the product is a very powerful way to achieve direct engagement.
We are leveraging a Product's data to bring value directly to Business and Marketing people. We are improving market insight and intelligence, creating new interactions with Consumers, improving storytelling, developing targeted marketing campaigns, publishing targeted ads, enabling new forms of Consumer Engagement, and finally building customer trust.

Digital Transformation of the Supply Chain allows brands to drastically improve market insight, better plan and adjust their product roadmap, increase the number of connected Customers and ultimately create new business models to develop new revenue streams.
Similarly to the way that CRM has enabled the Customer Journey by collecting key data about Customers, Digital Transformation of the Supply Chain is now enabling the Product Journey. Perhaps, combining the Customer Journey with the Product Journey could be a new way to differentiate and disrupt the market?
Note: This article originally appeared in German in Netzwoche (2018). The article is available at the following link: http://epaper.netzwoche.ch/digital-transformation-2018/60577675/10
About the authors
Philippe Castella is the Managing Director at Dentsu Tracking, a brand of Dentsu Aegis Network. He brings over 25 years of experience in supply chain digitization, including the management and development of new technologies and solutions to optimize and secure supply chains.
Dany Lauener is the Chief Technology Officer at Dentsu Tracking, a brand of Dentsu Aegis Network. He brings over 18 years of experience in supply chain digitization & traceability systems, both on FMCG and luxury industries.
Benjamin Phelip is the Sales & Marketing Director at Dentsu Tracking, a brand of Dentsu Aegis Network. He brings over 10 years of experience in supply-chain development, with extended experience working in regulated (FCTC, TPD) manufacturing contexts.